Description
It's well known that Sig is regarded as one of the best. The Sig Sauer P320 Compact is a striker-fired, modular, polymer-framed semi-auto handgun that excels in all situations, including home defense, carry, the range, and carry situations. It's obvious (as usual) that Sig thought of everything with a stainless-steel frame, a smooth, snappy trigger, an ambidextrous slide catch lever, and a reversible magazine release for full ambidextrous use.
The SIG SAUER P320 9mm 3.9″ Compact handgun is a highly regarded and versatile firearm that combines innovation, modularity, and reliability. Developed as part of SIG's P320 series, this compact model offers users a compact size while retaining the performance and features that have made the P320 series popular among civilian, law enforcement, and military users.
1. Modular Design:
One of the standout features of the SIG P320 series is its modular design. The handgun features a serialized internal chassis that can be easily removed and placed into different grip modules. This modularity allows users to customize the size and fit of their firearm, making it adaptable to various hand sizes and preferences.
2. Caliber and Performance:
Chambered in 9mm, the P320 Compact balances a manageable recoil with ample stopping power. The 3.9″ barrel contributes to accuracy while maintaining a compact form factor. The 9mm chambering is widely appreciated for its versatility, making it suitable for both self-defense and recreational shooting.
3. Compact Size:
The "Compact" designation signifies the handgun's compact size, making it an excellent choice for concealed carry. The 3.9″ barrel and reduced overall dimensions ensure that the P320 Compact is easily concealable while providing a comfortable grip for effective control.
4. Striker-Fired Action:
The P320 series utilizes a striker-fired action, known for its consistent trigger pull and short reset. This design enhances accuracy and contributes to the overall reliability of the firearm. The striker-fired mechanism is favored by many users for its simplicity and ease of use.
5. SIG SAUER Reliability:
SIG SAUER has a reputation for producing reliable and durable firearms, and the P320 series is no exception. The P320 Compact inherits this legacy, making it a trusted choice for those who prioritize reliability in their handguns.
6. Night Sights:
Many variants of the P320 Compact come equipped with SIGLITE night sights. These three-dot tritium sights enhance low-light visibility, a crucial feature for those using the handgun for self-defense purposes. The inclusion of night sights adds to the out-of-the-box usability of the P320 Compact.
7. Accessory Rail:
The handgun features an accessory rail on the frame, allowing users to attach lights, lasers, or other accessories. This feature enhances the versatility of the Sig Sauer P320 Compact, enabling users to customize their firearm for specific applications or preferences.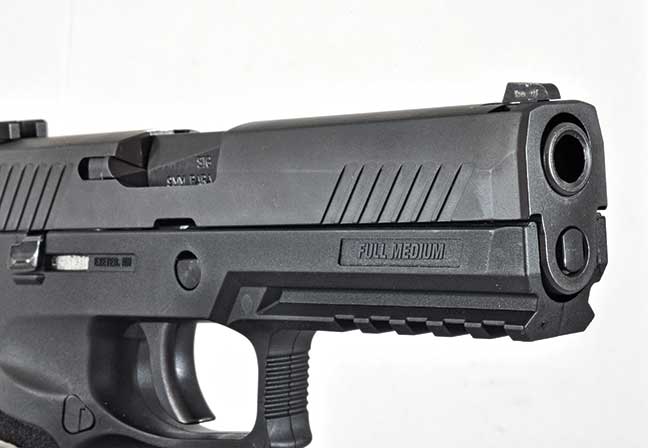 8. Magazine Capacity:
The Sig Sauer P320 Compact typically comes with a magazine capacity of 15 rounds. This ample capacity, combined with the compact size, makes it suitable for both concealed carry and as a primary firearm for various scenarios.
9. Ambidextrous Controls:
Designed with user convenience in mind, the P320 Compact includes ambidextrous controls such as a reversible magazine release and an ambidextrous slide stop. This ambidextrous design caters to both left- and right-handed shooters, enhancing the overall accessibility of the firearm.
10. Diverse Applications:
The versatility of the P320 Compact makes it suitable for a range of applications. Whether used for concealed carry, home defense, or as a general-purpose handgun, its adaptability ensures that it can meet the needs of a diverse user base.
11. Law Enforcement and Military Adoption:
The P320 series, including the Compact model, has seen adoption by various law enforcement agencies and military units globally. Its modular design and reliable performance have contributed to its acceptance in professional settings where performance and adaptability are paramount.
12. Aftermarket Support:
The popularity of the sig sauer P320 series has led to a robust aftermarket, with a wide range of accessories and customization options available. Users can personalize their P320 Compact with various grips, sights, and other enhancements to suit their preferences.
The SIG SAUER P320 9mm 3.9″ Compact handgun stands as a testament to SIG's commitment to innovation and reliability. Its modular design, compact size, and performance features make it a compelling choice for a variety of users. Whether you're a civilian looking for a concealed carry option or a professional seeking a reliable duty firearm, the P320 Compact offers a versatile and capable solution. To stay updated on the latest variants and user experiences, checking official SIG SAUER sources and engaging with the firearms community is recommended.
Caliber: 9mm
Action Type: Striker Fired DAO
Trigger Pull DA: 5.5 – 7.5 lbs
Trigger Pull SA: NA
Overall Length: 7.2 in / 183 mm
Overall Height: 5.3 in / 135 mm
Overall Width: 1.4 in / 35.5 mm
Barrel Length: 3.9 in / 99 mm
Sight Radius: 5.8 in / 147 mm
Weight w/Mag: 26.0 oz / 737 g
Mag Capacity: 15 Rounds
Sights: SIGLITE Night Sights
Grips: Interchangeable Polymer
Frame Finish: Black Polymer
Slide Finish: Nitron
Accessory Rail: Yes