Description
Full-sized service pistols are created by SIG Sauer, and the P226 is one of them. There are four chamber options available for this model: 9mm Parabellum, 40 S&W, 357 SIG, or.22 Long Rifle. The SIG Sauer P220's basic design is largely the same, however it has been modified to use double stack magazines with a greater capacity in place of the P220's single stack magazines.
The P226 design itself has given rise to other sub-variants: the P224 is a subcompact variant, while the P228 and P229 are also tiny versions of the double stack P226 design. Several military and law enforcement agencies throughout the world use the SIG Sauer P226 and its variations in their operations.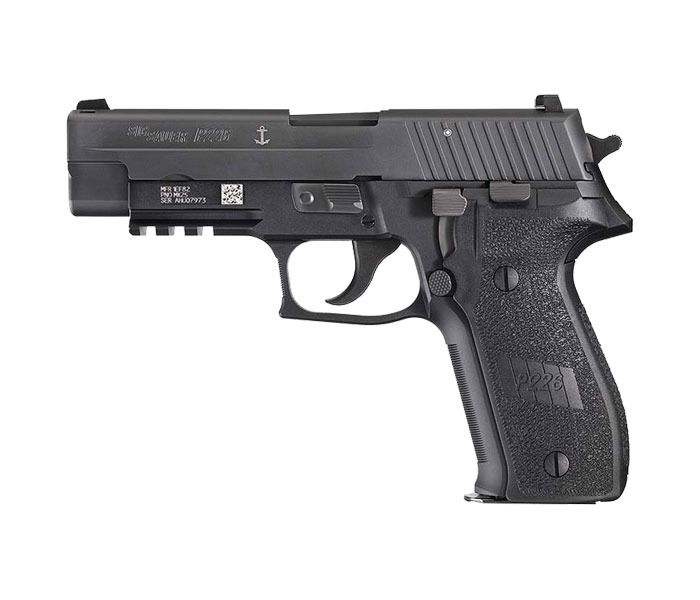 Both Sig Sauer, GmbH in Eckernförde, Germany and SIG Sauer Inc. in Newington, New Hampshire, produce SIG Sauer weapons (formerly SIGARMS Inc.). Both of these businesses are divisions of the Luke and Ortmeier Gruppe of Emsdetten, Germany, along with Swiss Arms AG, Mauser Jagdwaffen GmbH, J.P. Sauer & Sohn, John Rigby & Company, German Sport Guns GmbH, and Blaser Jagdwaffen Gmbh.
Caliber: 

9mm Parabellum

 , 

.357 SIG

 , 

.40 S&W

Length:  

19.6cm

Barrel length: 11.2  

cm

Weight unloaded: 0.750  

kg

 (9  

mm

 ), 0.870  

kg

 (.357, .40), 1180  

g

 (stainless 

steel

 version )

Capacity: 10 rounds (commercial sales in the 

United States

 between 

1994

 and 

2005

 ), 15 rounds (9  

mm

 ), 12 rounds (.357, .40)