Description
Magazine Cable Lock for the Ruger AR-556 MPR 5.56mm Semi-Auto Rifle with Davidson's Dark Earth Finish
The Ruger AR-556® Multi-Purpose Rifle's ("MPR") owner's manual. The Ruger® Elite 452TM AR-Trigger, the Ruger® 15′′ free-float handguard compatible with M-LOK® accessories, the 18′′ nitrided alloy barrel, the rifle-length gas system, and ergonomic Magpul® furniture are all included in this custom-built modern sports rifle. The AR-556 MPR is a capable and adaptable rifle that is ideal for a number of tasks.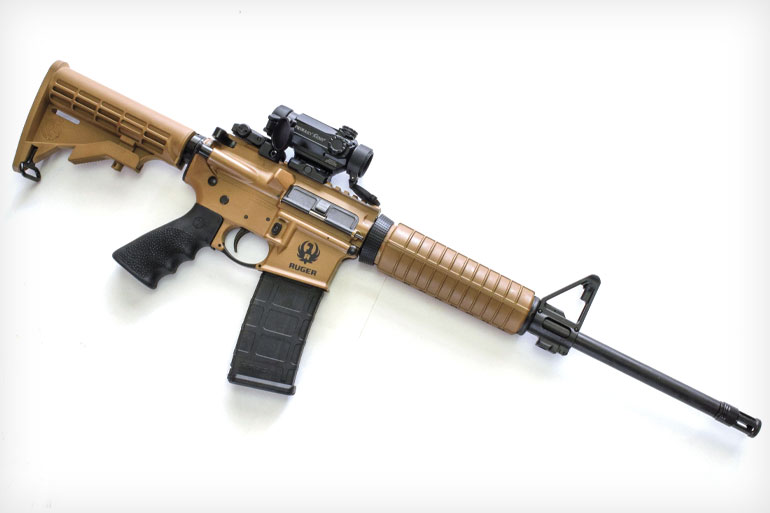 The skilled engineers at Ruger meticulously created the optimum custom package for the AR-556 platform that performs everything out of the box. The MPR is the ideal rifle for almost anything, from plinking to competition shooting.
The cold-hammer forged 18′′ alloy barrel with 5R rifling on the MPR is salt bath nitrided for durability and corrosion resistance. In order to save weight without losing rigidity, the barrel is curved, leaving a 0.75′′ journal for the low-profile gas block. The Ruger® muzzle brake and soft-shooting, rifle-length gas system offer smoother operation and reduce recoil to keep every shot on target.
Ruger's 15-inch free-float handguard has Magpul M-LOK accessory attachment slots in the 3:00, 6:00, and 9:00 positions and is lightweight, strong, and adaptable. Extra mounting slots on the angled surfaces next to the muzzle are ideal for a QD sling cup, a light, or both.
The 1.50′′ diameter handguard makes the MPR's forend small and maneuverable when compared to a normal quad-rail forend. Picatinny rail pieces compatible with M-LOK can be simply added. The inbuilt Picatinny rail is carefully controlled to the most recent STANAG 4649 specification at the 12:00 position.
The Elite 452 two-stage trigger's precise 4.5 pound trigger pull is a wonderful addition to the MPR. The Mil-Spec MOE SLTM buttstock and Magpul's MOE® grip on the lower receiver make the rifle simple to hold, shoulder, and fire. The lower and upper receivers are hard coat anodized after being CNC-machined from forgings to meet Mil-Spec requirements. The dust cover, brass deflector, and forward assist are included with the MPR.
Firearm Specifications,Model Number: 8526
Caliber: 5.56 NATO / 223 REM
Stock: Black Synthetic Collapsible
Front Sight: None
Rear Sight: None
Barrel Length: 18″
Thread Pattern: 1/2″-28
Handguard: Free-Float M-LOK®
Twist: 1:8″ RH
Capacity: 30
Receiver Finish: Davidsons Dark Earth
Height: 8″
Weight: 6.8 lb.
Overall Length: 35″ – 38.25″
Length of Pull: 11.10″ – 14.40″
Grooves: 5