Description
Alliant Reloder 33 Smokeless Powder is backed by a century of manufacturing expertise and the strictest quality control standards in the business with every container. A ballistics lab regularly tests and checks chemical composition, grain size and form, and overall density to assure consistency.
Certain characteristics of Reloder 33 and Reloder 17 are similar. Rl33 Powder employs the same secret technique of coating kernels with components that influence burn rate. This enables a pressure curve that is more constant and has a delayed spike that can add up to 150 ft/sec over powders of a similar composition. The 338 Lapua Magnum was the inspiration for this powder's design, but it also performs admirably with other large-capacity magnums and ultra-magnums.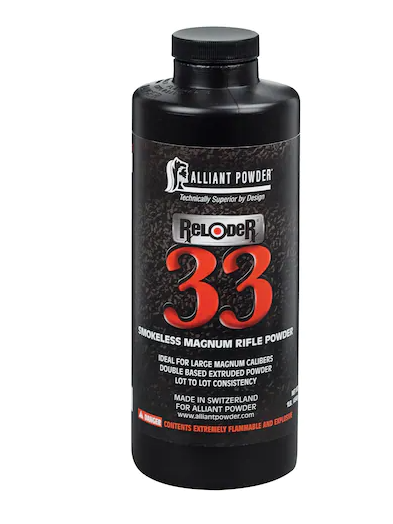 The exact same kernel-impregnation techniques first used in Reloder seventeen are utilized in Alliant's Reloder 33. The powder kernels are treated with components that control burn quantity using a unique process.
When we get your order, we'll let you know when it can be processed. At the time of collection, a valid license will probably be required. 338 LM. The American military has become fascinated by this, and is currently placing big purchases for Reloder 33. Reloder 33 should really reach the consumer market in mid-April to mid-May, depending on DOT transit approval. Expect vendors to have the new powder in store by the end of Could, unless they can do it sooner.
Other powders include;
Warnings from the Manufacturer:
Do not exceed the loads displayed in the reloaders guide.
Never mix any two powders regardless of type, brand, or source.
Never substitute any smokeless powder for Black Powder or any Black Powder substitute.