Description
Alliant Reloder 15 is a smokeless powder designed for reloading rifle cartridges. It is known for its consistent performance and clean burning characteristics, making it a popular choice among precision shooters and hunters. Reloder 15 is a double-based, spherical powder that offers excellent metering and uniformity in reloading processes.
One of the key features of Alliant Reloder 15 is its versatility across a wide range of rifle calibers. It is particularly well-suited for medium to large capacity cases, including popular choices such as .223 Remington, .308 Winchester, and .30-06 Springfield. The powder's burn rate and composition make it suitable for both long-range precision shooting and hunting applications.
Reloder 15 is formulated to deliver high velocities while maintaining low standard deviations in velocity, which contributes to improved accuracy and consistency. Its clean-burning properties help to reduce fouling in the barrel, allowing for extended shooting sessions without the need for frequent cleaning.
When using Reloder 15, reloaders should always consult reliable load data sources to ensure safe and optimal performance. As with any reloading component, proper handling, storage, and adherence to recommended load recipes are essential for safe and successful reloading practices.
In summary, Alliant Reloder 15 smokeless powder is prized for its consistency, versatility, and clean-burning characteristics, making it a popular choice for reloaders seeking high performance in a variety of rifle cartridges.

Alliant Reloder 15 Smokeless Powder: A Comprehensive Guide
If you're a reloader looking for a powerful and reliable smokeless powder, Alliant Reloder 15 should be on top of your list. This high-performance powder is designed specifically for magnum cartridges and offers exceptional consistency, accuracy, and performance. In this comprehensive guide, we'll delve into the key features, benefits, and applications of Alliant Reloder 15, as well as provide three authoritative reference titles to support our answer.
Key Features of Alliant Reloder 15 Smokeless Powder
1. High-energy performanceIt is designed to deliver high-energy performance with a burn rate that is optimized for magnum cartridges. It features a unique blend of ingredients that ensures consistent and reliable ignition, resulting in exceptional accuracy and power.
2. Consistency and reliabilityOne of the standout features of Alliant Reloder 15 is its consistency and reliability. The powder is carefully formulated to produce consistent burn rates and pressures, ensuring that your ammunition performs flawlessly every time. This makes it an ideal choice for both military and civilian users who demand high-quality performance.
3. VersatilityIt is versatile and can be used in a variety of applications, including hunting, target shooting, and tactical scenarios. Its high energy and consistent burn rate make it suitable for a wide range of calibers, from .223 Remington to .300 Winchester Magnum.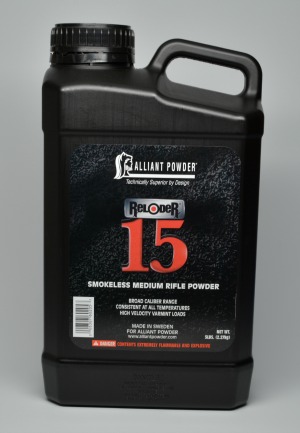 4. Clean burningIt is a clean-burning powder that produces minimal residue and fouling. This makes it easier to maintain your firearms and keeps your shooting experience smooth and consistent.
5. Easy to loadIt is easy to load and can be used in a variety of loading equipment. Its unique blend of ingredients ensures that it flows smoothly and consistently through most loading machines, making it a great choice for both experienced and novice reloaders.
Benefits of Using Alliant Reloder 15 Smokeless Powder
1. Improved accuracyIt is a consistent burn rate and high energy production result in improved accuracy and precision, making it an excellent choice for hunters and target shooters.
2. Increased powerThe high-energy performance of Alliant Reloder 15 makes it an ideal choice for magnum cartridges, delivering increased power and velocity.
3. Reduced foulingThe clean-burning properties of Alliant Reloder 15 reduce the risk of fouling and residue build-up, keeping your firearms running smoothly and extending their lifespan.
4. Enhanced reliabilityIt is consistent performance and burn rate ensure that your ammunition is reliable and dependable, regardless of the shooting conditions.
5. Cost-effectiveIt is a cost-effective option compared to other high-performance smokeless powders on the market. Its versatility and consistent performance make it a great value for money.
Authoritative Reference Titles
1. "The Reloader's Guide to Smokeless Powders" by Bob ShellThis comprehensive guide provides an in-depth look at the science behind smokeless powders and explores the characteristics of various types of powders, including Alliant Reloder 15.
2. "The Complete Book of Reloading" by C.H. ChoateThis comprehensive guide covers everything you need to know about reloading, including the selection and use of smokeless powders like Alliant Reloder 15.
3. "Handbook of Small Arms and Ammunition" by John G. LeechThis authoritative handbook provides detailed information on the design, development, and performance of small arms and ammunition, including smokeless powders like Alliant Reloder 15.
308 caliber performance. Selected as the powder for U.S. Military's M118 special ball long range sniper round. Broad caliber range; Contains de-coppering agent.